You forgot your 
Facebook
 password and want to find it again but don't know how to do it.
Use the Password Manager feature
Step 1: Click on the 3-dot icon   in the upper right corner of the web browser. Then click Settings .
Step 2: Select the Password section . Then, go to the line to save your Facebook password and select  the eye icon.
Step 3: You will see a message box appear > Please enter your Windows password (the password you set when locking and unlocking the laptop screen) to review your Facebook password.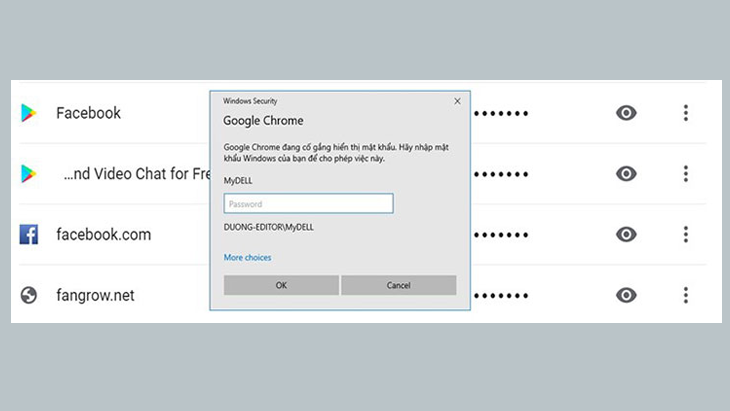 Recover Facebook password through friends
How to recover Facebook password through friends can only be done in case you are still able to log into your account. However, you want to log in on another device but forgot your password and want to get your Facebook password back.
Step 1: Log in to Facebook. In your Facebook home screen, in the upper right corner, click the Down arrow and select Settings & privacy.
Step 2: On the left pane, select Security and log (Security and Help). In the "Select friends to contact if you can't log in" section, click Edit  > Select Friends .
Step 3: In the dialog box Select trusted contacts (Choose Trusted Contacts), enter the name of  3-5 of your friends on Facebook and then click confirm.
Step 5: You will see the contacts you have selected. In case you want to change later, you can still choose Edit (Edit) to change other contacts.
Retrieve Facebook password via ID card or ID card
Step 1: To be able to retrieve your Facebook password with your ID card or CCCD, you need to follow the link here.
Step 2:  There will be a notification about sending information to confirm with Facebook's terms that you can refer to more to know if you are approved.
Step 3: After reading and understanding the information, click Choose file to download a file of 3 photos , of which the first 2 photos are taken of the front and back of your ID card or CCCD. The other photo is a portrait of you for Facebook to identify and verify.Please take and choose clear photos because it will contribute to helping Facebook verify your identity more accurately and quickly.
Step 4: Finally, you just need to enter your Email address or phone number and press the button to send information to Facebook. Feedback results will be returned within 30 days from the time you submit your information.
Retrieve Facebook password with Username
Another way you can recover your Facebook password is to use Facebook's Find Your Account page to find your account by your username. Make sure your browser is not logged into any Facebook accounts at this time.
Step 1: Enter the Email or phone number you used to register for a Facebook account.
Step 2: Select the account with the same name (username) and avatar as you
Step 3: Select  No longer accessible?
Step 4:  Finally, perform the verification steps on the screen to retrieve your Facebook password!
Note: If you're not sure what your username is, have a friend log into their Facebook account and navigate to your Profile, then send you the display URL.